Breakfast Bruschetta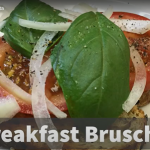 Change up your breakfast routine with this flavorful yet nutritious dish! 
4 slices whole wheat bread
2 ripe tomatoes (sliced)
4 fresh basil leaves
1 sweet onion
1/4 teaspoon garlic salt
1 Tablespoon butter or margarine
Wash hands with soap and water for 20 seconds.

Turn on electric skillet or heat a skillet on the stovetop.

Melt butter or margarine in a skillet.

Add 4 slices of whole grain bread to the skillet.

Spread a small amount of butter or margarine on top of each slice of bread.

Toast bread until lightly browned.

Top with tomato slices, salt and pepper to taste, fresh basil leaves, and thinly sliced onions.