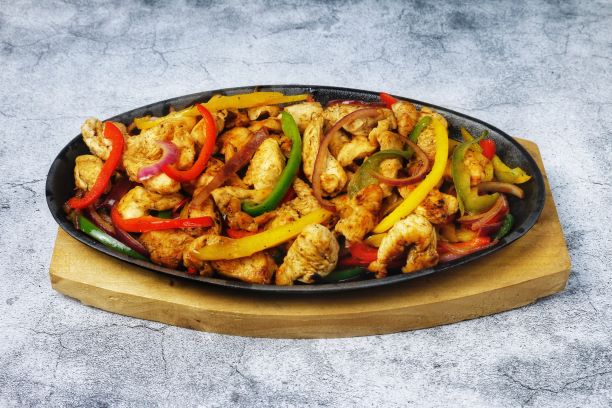 Print Recipe
Chicken Fajitas
Ingredients
2

large

chicken breasts

1/4

tsp

salt

divided in half

2

large

bell peppers

1

large

yellow onion

1/2 sliced, 1/2 diced

1

tbsp

avocado oil

olive oil, or canola oil works

1/2

bunch

cilantro

2

medium

limes

sliced into wedges

12

medium

whole wheat tortillas
Fajita Seasoning
1/2

tbsp

chili powder

1

tsp

cumin

1

tsp

garlic powder

1/2

tsp

onion powder

1/2

tsp

paprika

1/2

tsp

black pepper

1/8

tsp

cayenne
Instructions
Place chicken breasts in a gallon size plastic bag and, using a meat tenderizer, pound the chicken breasts until they are thin.

Sprinkle ⅛ tsp of salt over each chicken breast. Place them in the fridge for 30 minutes.

In the meantime, slice bell peppers and onions. Set aside.

In a small bowl, combine chili, cumin, garlic, onion, paprika, black pepper, and cayenne. Mix, then set seasoning aside.

In another bowl, combine diced onions and chopped cilantro. Mix and place in fridge.

After thirty minutes, get chicken out of fridge and pat it dry. Preheat your skillet over medium heat.

Season chicken breasts on both sides with ⅔ of the seasoning mix.

Add oil to skillet, then add chicken breasts. Cook one side for 8 minutes, then other side for 4 minutes.

Remove chicken from skillet and set aside. (The chicken is done when the internal temperature reaches 165 degrees F.)

Take a paper towel and wipe off most of grease from skillet. Leave just a bit of oil on skillet to cook vegetables.

Return skillet to stove, add onions, and cook for about 10 minutes.

While onions cook, slice chicken breasts into cubes. Set aside.

Once onions start to caramelize, add bell peppers and rest of seasoning mix, and cook for another 10 minutes.

While fajita veggies continue to cook, warm up tortillas if desired in a separate skillet. Set aside.

When veggies are cooked, turn off heat and begin assembling fajitas. In tortillas, add a layer of chicken, fajita veggies, and onion/cilantro mix. Add a squeeze of lime over fajitas before eating.