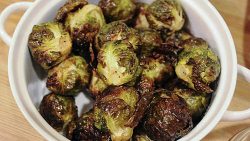 Print Recipe
Roasted Brussels Sprouts with Balsamic Vinegar
Ingredients
1

pound

Brussels sprouts

1 1/2

Tablespoon

olive oil

1/2

teaspoon

salt

2 1/2

teaspoons

balsamic vinegar

1/4

teaspoon

black pepper
Instructions
Wash hands with soap and water for 20 seconds.

Preheat oven to 475°F and line a baking sheet with foil.

Gently rub Brussels sprouts under cold running water.

Trim the stalk end of the Brussels sprouts. Cut into halves or quarters if desired. Toss them in a large bowl with the olive oil and salt.

Pour the sprouts onto the baking sheet. Spread or shake into a single layer. Cover tightly with another layer of aluminum foil.

Roast for 10-15 minutes. Remove the foil - the sprouts should be green on the outside, yellow-green in the middle, and just starting to become tender.

Drizzle on the balsamic vinegar. Return to the oven and roast for 10-20 more minutes, stirring 1-2 times. Remove from oven when golden-brown spots appear on sprouts, but before the entire sprouts turn brown. Sprinkle pepper over the sprouts.