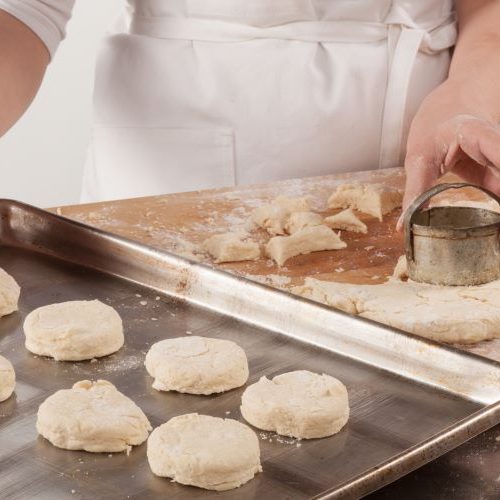 Print Recipe
Buttermilk Biscuits
Ingredients
1

Tablespoon

cream of tartar

1 1/2

teaspoons

baking soda

5

cups

all-purpose flour, chilled and sifted, plus more as needed

1

Tablespoon

kosher salt, plus 1 teaspoon

1/2

cup

unsalted butter, plus 2 Tablespoons

2

cups

cultured buttermilk, chilled and well shaken

3

Tablespoons

unsalted butter, melted
Instructions
Place a rack in the upper-middle position of the oven and preheat to 500°F.

Make your own levening by sifting together the cream of tartar and baking soda.

In a large bowl, whisk together the cream of tartar, baking soda, flour, and salt. Add the butter and freeze it for at least 20 minutes. Quickly work the pieces of butter into the flour with a pastry cutter or rub it between your fingertips until coarsely blended lumps form.

Make a well in the center of the bowl and pour in the chilled buttermilk. Quickly mix the ingredients until the mixture just comes together and forms a shaggy mass. Add 1-2 more Tablespoons of buttermilk if the mixture seems dry.

Immediately turn the dough out onto a generously floured surface and quickly knead the dough about ten times until a ball forms. Gently flatten the dough out a thickness of 3/4 inch.

With a fork that has been dipped in flour, pierce the dough at half-inch intervals. Flour a 2 1/2 or 3-inch biscuit cutter, and stamp out biscuits as close together as possible, taking care not to twist cutter. When you have run out of room to stamp out more biscuits, carefully reform the dough and press out as many as you can one more time.

Arrange the biscuits so almost touch on a parchment-lined baking sheet and bake until golden, about 10-12 minutes. Remove from the oven and brush the tops with the melted butter. Serve warm with butter, honey, and/or jam. Makes 10-12 biscuits.
Notes