May is National Beef Month, and May 27 has been designated as National Italian Beef Day. It's always fun to learn a new way to enjoy beef. Italian Beef began and became famous as cheap food for the working class and immigrants of Chicago. Today, the Italian Beef Sandwich has stood the test of time as a cultural icon for the city. Little Italy in Chicago is home to the traditional sandwich.
To make Italian Beef, you will need a roast with lots of marbling. A chuck roast is marbled throughout. A top round roast or sirloin tip roast can be used, as long as it has a lot of fat content to help develop the flavor. When the roast is cooking, the fat melts and becomes sauce that will be turned into au jus gravy. This seasoned liquid is a crucial ingredient for an authentic Italian Beef sandwich.
The meat is seasoned with dried herbs such as basil and oregano. Next, spices such as red and black pepper, garlic, and other spices are added to the roast, which will be slow-cooked while partially submerged in beef stock. After cooking, the cooled beef is sliced very thin and reheated in the cooking juices. This thinly sliced meat becomes the foundation of the Italian Beef sandwich once it is placed inside the bread.
Italian Beef sandwiches are made on bread called "French bread" by the Italian bakeries in Chicago, but it is not the traditional French bread we would picture. The loaf is thinner, longer, and has less crust. I would describe it more as a baguette.
After the meat is placed in the bread, it is topped with peppers. Italian Beef sandwiches can be either hot or sweet, depending on the type of peppers used. A "sweet" Italian Beef sandwich is topped with sweet peppers, such as roasted sliced green and red peppers that have been tossed with fresh garlic, pepper, salt, and olive oil. A "hot" Italian Beef sandwich is layered with giardiniera, a pickled relish of vegetables and spicy peppers.
If desired, you can add cheese. Mozzarella and provolone are popular picks.
When ordering an Italian Beef at a stand or eatery, you will need to know if you prefer your Italian Beef sandwich to be hot or sweet, and also, "dry," "dipped," or "wet." To make the sandwich "dry," most of the liquid is allowed to drip off the beef before it is put into the bread. For a "wet" sandwich, the beef is pulled from the liquid and immediately put into the bread. For it to be "dipped," the entire beef sandwich will be quickly dipped into the liquid.
Nutritionally, Italian Beef sandwiches contain high amounts of protein, along with vitamins and minerals. Those watching the fat content of their diets should skip the optional cheese and order a smaller sandwich with less beef and au jus gravy.
Written by Vicki Hayman, MS, University of Wyoming Extension Nutrition and Food Safety Educator
Sources:
www.livestrong.com; www.thrillist.com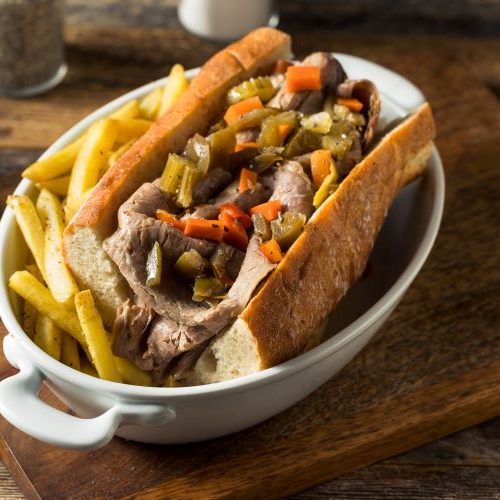 Print Recipe
Slow Cooker Italian Beef
Ingredients
Beef
3 to 4

pounds

beef chuck roast or round roast

or wild game

Kosher salt

1

can

(14.5 ounces) beef broth

divided

8

ounces

pepperoncini pepper slices plus 1/4 cup of juice and additional peppers for serving

8

ounces

giardiniera pickled vegetables

mild or spicy drained, plus additional for serving (look for chopped versus whole)

Provolone cheese slices for serving

Hoagie buns for serving
Seasoning*
1

Tablespoon

Italian seasoning

2

teaspoons

sugar

1

teaspoon

garlic powder

1

teaspoon

onion powder

1/2

teaspoon

kosher salt

1/2

teaspoon

black pepper

1/4

teaspoon

thyme

dried ground
Instructions
Wash hands with soap and water for 20 seconds.

Season the beef all over with kosher salt. Let the meat rest at room temperature for 15 minutes. Meanwhile, measure the other spices and seasonings. In a small bowl, stir together the seasoning ingredients; set aside.

Heat a large skillet or Dutch oven over medium-high. Once it is hot, sear the meat on all sides until golden brown, moving it as little as possible so that it develops a nice crust. Transfer the meat to the slow cooker.

Wash the counter and utensils that touched the raw meat. Wash hands with soap and water after handling raw meat.

Turn the heat to medium. Carefully add in a small amount of the broth, and with a wooden spoon, scrape up the brown bits on the bottom of the pan. Pour the liquid and any bits into the slow cooker on top of the beef.

Sprinkle the seasoning mix on top of the beef.

Add the pepperoncini peppers and juice. Add the drained giardiniera.

Pour in the remaining broth.

Cover the slow cooker and cook on LOW for 8 to 10 hours or until meat shreds easily with a fork. Shred the beef, then stir it together with the juices; cover and cook on low for 30 additional minutes.

To serve, split the hoagie buns and, if desired, toast on a baking sheet in the oven at 350°F for 5 to 7 minutes. Fill the bread with the shredded Italian beef and top with provolone, pepperoncini, and giardiniera as desired. Enjoy!
Notes
*You can swap the homemade Italian seasoning mix in this recipe with a .7 ounce packet of Italian dressing mix.