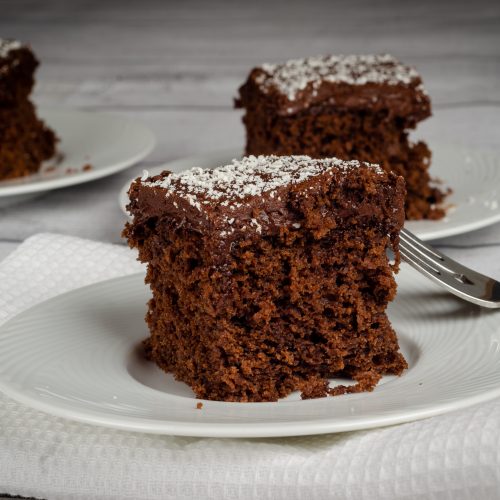 Print Recipe
High Altitude Chocolate Cake
This moist and fluffy chocolate cake was tested at 7200 ft.
Ingredients
1/2

cup

canola oil

107g

1 3/4

cups

sugar

347g

1/4

cup

sour cream

57g

2

teaspoons

vanilla

3

eggs

2 1/2

cups

flour

300g

3/4

cup

cocoa powder

75g

1/2

teaspoon

baking soda

1

teaspoon

baking powder

1

teaspoon

salt

1

cup

buttermilk

240mL

3/4

cup

very hot water

174mL

Butter and flour or parchment paper

Cupcake paper liners and/or non-stick baking spray

if making cupcakes
Instructions
Wash hands with soap and water for 20 seconds.

Do not taste or eat any raw dough or batter made with uncooked flour and/or raw eggs.

Preheat oven to 350°F.

Butter and flour two 9-inch pans, three 8-inch or one 9x13 pan. Line bottoms with parchment paper. (Not necessary for the 9x13-inch pan unless you are going to remove the cake from the pan. See Note 1.) For cupcakes, line with cupcake liners and give each a small spritz of non-stick spray.

In a large bowl, beat sugar and oil until combined. Scrape down bowl sides.

Add sour cream, eggs and vanilla. Mix on medium until combined. Scrape down bowl sides.

Sift together flour, cocoa, baking soda, baking powder, and salt.

Add the flour and buttermilk one third at a time, starting with the flour and ending with the buttermilk. Beat on medium speed until combined. Scrape down bowl sides.

Very slowly add the hot water. Beat or stir until just mixed. (Be careful—the hot water may splash.)

Bake the cake 25-30 minutes for 8-inch pans, 30-35 minutes for 9-inch pans, 30-35 minutes for a 9x13-inch pan, or 15-18 minutes for cupcakes and the tops of the cakes spring back when gently touched or until a toothpick inserted comes out clean. The internal temperature of the cake should be 200°F. Do not overbake!

Do not open oven until just before testing cakes. Opening the door too soon may cause the cakes to fall in the middle.

Cool 10 minutes in pans. Turn out the layers onto cooling racks and remove the parchment paper if using.

Cool completely and frost as desired.
Video
Notes
For chocolate cakes, you can use cocoa powder to flour pans to avoid white blotches on the edges. Coating a greased cake pan with a thin dusting of flour creates a barrier between the grease and the cake batter, which prevents the grease from melting and disappearing into the batter as the cake bakes, allowing it to do its job in the end, after the cake is baked. The flour helps the cake batter grip the sides to help with the rise.

Substitutions for lower elevations if the above recipe doesn't work:

Reduce flour to 2.25 cups
Increase sugar to 2 cups
Increase baking soda to 1 teaspoon