When properly made, hollandaise sauce is light, smooth, frothy, lemony, and rich with butter and eggs. The buttery flavor should dominate but not mask the flavors of the egg and lemon.
Hollandaise has a reputation for being difficult to make. Timing, temperature, and proportion must be carefully controlled in order to yield hollandaise!
Helpful Tips
Hollandaise sauce is not difficult to make, but you need to know what you are doing to get it right. Use room temperature eggs, rather than a cold eggs. Cold eggs will be harder to keep from curdling. A lot of hollandaise sauce recipes call for clarified butter. If you do choose to use clarified butter, you may need to thin the finished hollandaise sauce with a little water because it might end up too thick to be pourable. A metal whisk is vital to making hollandaise sauce. Vigorous whisking protects the eggs from overcooking and incorporates air into the sauce.
What to Look Out For
A broken hollandaise sauce is thin with a grainy appearance. The likely causes are overheating, adding the butter too quickly, or adding too much butter.
If a sauce seems on the verge of breaking, you'll see oily butter begin to accumulate on the edge of the sauce. You can often save it if you take the sauce off the heat and slowly whisk in one tablespoon of cold water.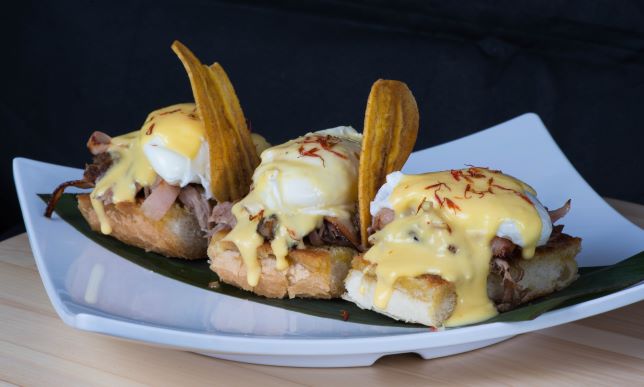 If the sauce actually breaks, it can usually be repaired by very slowly beating the warm sauce into a yolk that has first been whisked vigorously with one tablespoon of cold water. A repaired sauce won't be as light, but it will be acceptable for most uses.
If you scramble the yolks, the sauce is beyond repair! Start over again using lower heat.
Storage
The unfortunate thing about hollandaise sauce is that it shouldn't be stored. If you want to keep the sauce for more than an hour you can set up a double boiler with the hollandaise sauce on top of it or keep it in a warmed thermos.
Give It a Try
There are countless hollandaise sauce variations, nonetheless this is a basic version of this classic sauce. The procedure is accomplished by diluting and acidifying the egg yolks and heating the mixture to a pasteurizing temperature. This procedure ensures the destruction of salmonella and other pathogenic bacteria. Don't be intimidated by making hollandaise sauce at home! See below for the recipe.
There's no denying the irresistibility of hollandaise sauce, especially one that's well made: thick yet airy, with a rich, buttery flavor brightened with a splash of lemon juice. Whether paired with poached eggs, beef tenderloin, or salmon, or used to dress up vegetables, Hollandaise, or its sister sauce Béarnaise, is wonderful at the table.
Sources:
Assuring Safety Of Egg Yolk-Based Sauces And Salad Dressings at http://www.hi-tm.com/Documents/Mayonnaise.pdf
Fine Cooking Issue 36 – How to Make a Satiny, Full-Bodied Hollandaise Sauce