Phytochemicals, polyphenols, flavonoids…a lot of fancy words (and associated health claims) are thrown around these days, but what does it all mean? In this blog I will shed some light on a few of these terms and how they fit with current diet recommendations.
Phytochemicals
Let's start with the big one: phytochemicals (read: 'plant chemicals') are simply chemical compounds that occur naturally in plants. Thousands have been identified though just a fraction of that number have been carefully studied. Different types of phytochemicals are responsible for much of the disease protection conferred from diets high in fruits, vegetables, beans, grains, and plant-based beverages such as tea and wine. A brief reminder: this includes a reduced risk for many chronic diseases such as diabetes, cardiovascular disease, and cancer.
Polyphenols
Polyphenols, an important type of phytochemical, are produced by plants to protect them from external stresses such as UV radiation and pathogenic attack. They contribute greatly to the color and taste properties of plant foods. They not only protect their host plant but once eaten as food they protect us as well—helping to reduce our risk for the chronic conditions listed above.
Flavonoids
Flavonoids are a type of polyphenol that has been studied quite intensively – over 6,000 different types have been identified! Flavonoids are found in many different plant foods and are thought to play a strong role in the health benefits of plant foods. The figure below should help you to see how polyphenols, flavonoids, and a few other phytochemicals are related.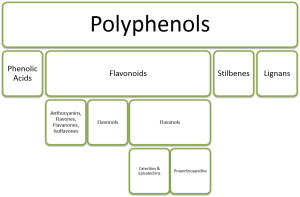 Positive Health Outcomes
These chemical components of plant foods are associated with many proven and potential positive health outcomes. Despite this, there are no solid recommendations on how much we need of each one. The complexity of the compounds and their interactions in the body makes these types of recommendations particularly challenging. In fact, the health benefits we experience are not likely from single phytochemicals, but a result of the interactions between many of the different phytochemicals we eat.
Where to Find Them
These interactions are the basis for the recommendation to consume a variety of fruits, vegetables, and other plant foods—these are the best sources of phytochemicals and will also give you vitamins, minerals, and fiber that you won't find in a synthetic supplement. Supplements containing massive doses of a singular phytochemical are not only unproven, but could be dangerous!
Build a Colorful Plate
The easiest way to make sure you're getting a good variety (and amount) of phytochemicals is to take a quick assessment of the colors and flavors on your plate. If the portions on your plate are based on the MyPlate guide and there are a variety of colors and flavors then you're probably doing pretty good! Kentz Willis, M.S., is the University of Wyoming Extension Educator in Nutrition and Food Safety for Northeast Wyoming. He can be reached via email at kwillis3@uwyo.edu.