Fruits and vegetables can be home preserved by pickling. Pickling is a form of canning. It is a skillful blending of spices, sugar, and vinegar with a fruit or vegetable.
Get Creative
Preserved pickle products are either fermented in a salt brine or packed in a vinegar brine. Pickling shouldn't be limited to cucumbers. We're talking about unexpected, sophisticated fruits and veggies – think broccoli, eggplant, pumpkin, cantaloupe, grapes, pears, and peaches – that you'd never expected to see in a pickle jar.
Recipe Selection
The key is to select a recipe from an approved source that's specifically designed for the fruit or vegetable you are pickling. Follow the directions carefully for a safe, high quality product.
Proper pickling is all about proportion. Just googling for recipes can get novice picklers into trouble! The same is true of using old family recipes. Old recipes are no longer safe to use. New guidelines designed for improved safety were released in 1994. Look for recipes on sites that reference tested research recipes and methods. Extension sites, Ball® Blue Book® Guide to Preserving, 2015 USDA Complete Guide to Home Canning, and So Easy To Preserve are reliable sites and books.
Preparation
Begin by selecting fruit and vegetables, and plan to pickle within 24 hours of picking. Wash well and drain. Pickled vegetable recommendations vary widely on the need for a first step of blanching, pre-cooking, or raw packing. Green beans, carrots, onions, mushrooms, and zucchini are raw-packed. Whereas, asparagus is blanched and beets need to be pre-cooked in their skins for 30 minutes.
Choose Your Acid
Vinegar is a preservative and flavoring agent. Adding an acid like vinegar to a low acid food decreases the pH to levels in which most microbes can't grow. The amount of acid added is very important to the safety of the product and to get the right 'pickled' flavor we like. White distilled vinegar is used for foods where clearness of color is desired. Cider vinegar has a good flavor and aroma, but may darken white or light-colored fruits and vegetables. Vinegar used should be 5% acetic acid. Do not dilute the vinegar unless the recipe specifically directs you to add water to the vinegar. Again, select a tested recipe for the produce you are pickling.
Not Just Your Table Salt
Salt also places an integral part in preserving produce. Pickling recipes require pure salt known as pickling or canning salt. Table and iodized salt contain an anti-caking agent that will create cloudy, unappealing brine. Do not alter salt concentrations in fermented pickles or sauerkraut because it depends on correct proportions of salt and other ingredients.
Use white sugar unless the recipe calls for brown sugar. If you plan to use a sugar substitute, follow recipes developed for these products.
Use Whole Spices and Herbs
Pickles can be flavored with a wide variety of spices, seeds, and herbs. Use new dried whole spices and herbs for the best quality and flavor in pickles. Powdered spices may cause the product to darken and become cloudy.
Soft or Distilled Water
Soft water is best for pickling. If only hard water is available, boil it, skim away the surface scum, and let it sit for 24 hours. Then draw water off the top of the container without disturbing any sediment at the bottom or buy distilled water. Distilled water can also be used.
Water Bath Processing
Pickled products are also heated in jars at boiling temperatures to destroy any acid tolerant bacteria and to form a good tight seal. The water bath processing time is determined by the acid level of the product and pickling solution and the jar size. Water bath processing times range from five minutes to 30 minutes to insure a safe home canned product.
Standards and Tips
Here are some standards for all pickled products. Allow ½ inch headspace. Headspace is the unfilled space above the food or liquid in a jar and below its lid. The amount needed depends on the type of food being process. Use the same size and shape so each pickled items has the same flavor. Make sure the liquid brine covers the product. There shouldn't be any pieces floating around in the jar. The pickled product should be plump not shriveled. If you are processing pickle products at an altitude over 1000 feet, you must adjust the processing time! Before opening a jar, examine it closely for spoilage. Look for spurting liquid, disagreeable odor, change in color, mushiness or slipperiness of the product. If spoilage is evident, do not taste or eat it!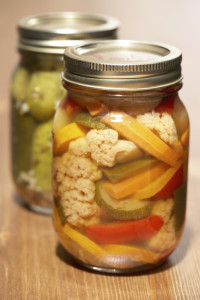 Luckily for pickle-lovers, making your own pickles is way easier than you think. Pickling is an awesome way to add a punch of flavorful acidity to in-season fruits and vegetables so you can enjoy them long after the harvest season has passed. With a simple mix of water, vinegar, salt, and spices, you can pickle just about any food at home. Pickled products truly add spice to meals and snacks.
Sources:
Ball® Blue Book® Guide to Preserving, 2014
So Easy To Preserve, 6th edition,
2015 USDA Complete Guide to Home Canning